Leftovers. Those storage containers in the fridge full of food you enjoyed the first day you made them, but now you avoid like the plague. That happens to me many times. I'll make something and the leftovers will get forgotten in the fridge for a few days. Then I have to scramble to eat them, or create something new and exciting with them.
I like re purposing my leftovers, because it doesn't make them feel like leftovers
. I recently saw a recipe for this soup, which I LOVED when we lived in the U.S. Back then the Olive Garden was one of our favorite spots to eat and this soup was always a winner.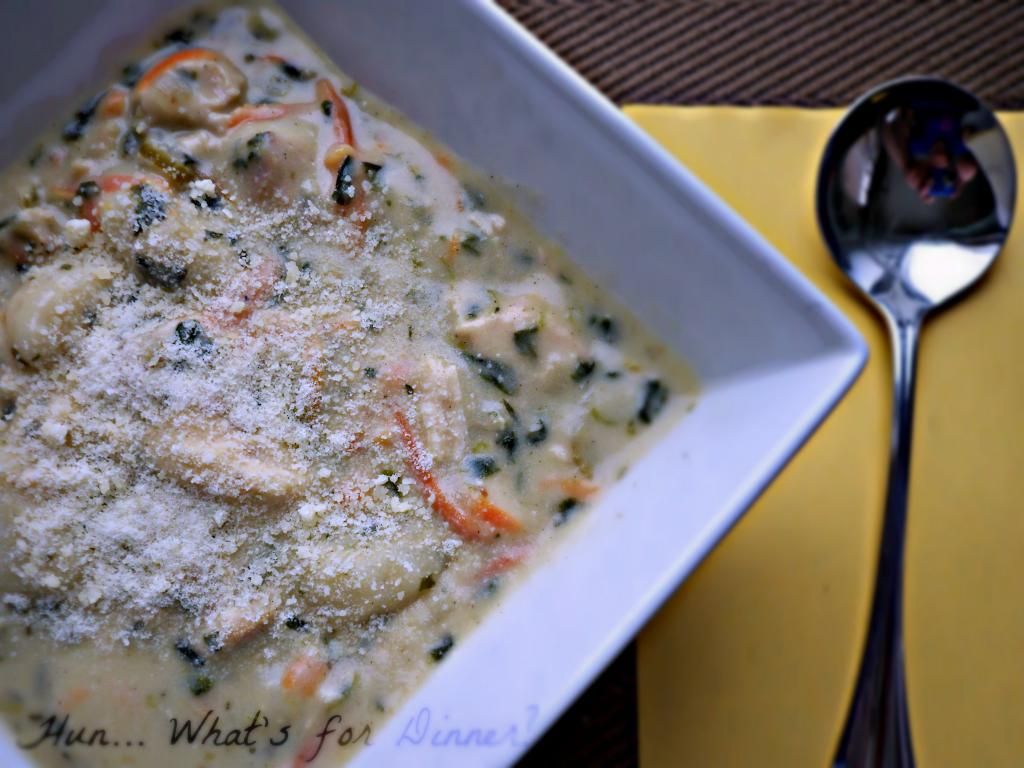 I was so happy to find a
copycat recipe
of this soup. It looked simple enough, so I bookmarked it for dinner one night. I did modify it a little, by using low fat milk, rather than cream. You couldn't even tell, I had used milk! My girlfriend was over for dinner, the night I made the soup and between us 3 adults, all that was left was one bowl; which I quickly claimed for lunch the next day. I loved the slight thyme and nutmeg notes, in the creamy soup; filled with tender gnocchi. I served it with some awesome
Roasted Garlic Bread
and it was phenomenal!!!
Disclosure: I am part of the Life Made Delicious Blogger program and I receive special perks as part of my affiliation with this group. The opinions on this blog are my own."
Olive Garden Chicken and Gnocchi Soup
adapted from Copycat Recipes.com
1 tablespoon extra virgin oil
4 tablespoons butter
4 tablespoons flour
1 quart half and half
1/2 cup celery, finely diced
1 cup onion, finely diced
2 minced garlic cloves
2 14 ounce cans of chicken broth if you enjoy thick soup, use one can
1 cup carrots, finely shredded
1 cup chicken breasts, cooked and diced (you can use a rotisserie chicken)
1 package gnocchi, cooked (you can find these in gourmet/pasta section of the grocery store - you may want to cut the gnocchi in half if it is large, or purchase the mini size if available)
1 cup of fresh spinach coarsely chopped
1/2 teaspoon salt
1/2 teaspoon thyme
1/2 teaspoon parsley
1/4 teaspoon nutmeg (optional)
Saute the onion, celery, and garlic in the butter and olive oil over medium heat until the onion becomes translucent. Add the flour and make a roux. Let the butter and flour mixture cook for about a minute before adding 1 quart of half and half. Cook gnocchi according to package directions. Into the roux, add in the carrots and chicken. Once the mixture becomes thick, add the chicken broth. Once the mixture thickens again, add the cooked gnocchi, spinach, and seasoning; simmer until soup is heated through. Before serving season to taste by adding additional salt.
Cindy's Notes:
I used low fat (2%) milk, rather than half and half. I also used thawed and drained frozen chopped spinach (about 1/3 C). I decided to add the seasonings in, when I added the milk, to let the flavours develop in the soup.
This post linked to