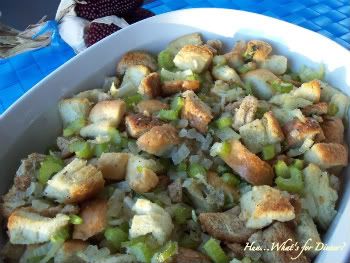 It's Thanksgiving weekend her in Canada! Although with this amazing weather, you'd think it was still summer. Since we'll be giving Thanks on Monday Oct 10, I thought I'd share a very delicious side dish with you. This is one of the easy Thanksgiving recipes you can find over on the
Life Made Delicious
site. They have everything you need, to make your Thanksgiving that much yummier. From sides like this stuffing recipe, to tons of seasonal desserts, it's a great place to get some inspiration.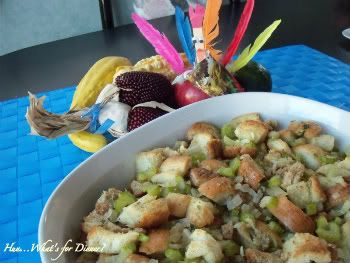 This stuffing really was a snap to put together. The flavours were spot on and reminded me of a nice big turkey dinner; even though I didn't serve this with turkey. The bread gets nice and crispy with a slight crunch of celery. The kids really enjoyed this, which totally surprised me, since they usually snub the stuffing. It's a great simple, yet delicious recipe sure to please your family and guests.
"Disclosure: I am part of the Life Made Delicious Blogger program and I receive special perks as part of my affiliation with this group. The opinions on this blog are my own."
Classic Bread Stuffing Recipe
Adapted from Life Made Delicious
Homemade stuffing is one of those classic, mouthwatering dishes that make a holiday meal irresistible.
Ingredients:
3/4 cup (175 mL) butter or margarine
2 large celery stalks, chopped
1 medium onion, chopped (about 1/2 cup/125 mL)
9 cups (2.25 L) soft bread cubes (about 15 slices)
1 1/2 tsp (7 mL) chopped fresh thyme leaves or 1/2 tsp (2 mL) dried thyme leaves
1 tsp (5 mL) salt
1/2 tsp (2 mL) ground sage
1/4 tsp (1 mL) pepper
Method:
Melt butter in 4 qt (4 L) saucepan over medium-high heat. Cook celery and onion in butter 6 to 8 minutes, stirring occasionally, until tender. Remove from the heat.
Gently toss celery mixture and remaining ingredients, using spoon, until bread cubes are evenly coated.
Use to stuff one 10 to 12 pound (4.5 to 5.5 kg) turkey. Or to bake stuffing separately, grease 3 qt (3 L) casserole or 9x13-inch (23x33 cm) rectangular baking pan. Place stuffing in casserole or baking dish. Cover with lid or aluminum foil and bake at 325°F (160°C) for 30 minutes; uncover and bake 15 minutes longer.
Important Food Safety Tips:
Stuff the turkey just before roasting. Do not stuff the day before. Moistened stuffing does not keep well. If desired, ingredients may be prepared the day before and combined just before the turkey is to be stuffed.Do not stuff a fresh turkey before freezing and do not freeze a cooked turkey with stuffing still inside.Remove leftover stuffing from turkey immediately and keep covered in the refrigerator. Use within three days. Reheat just enough stuffing for one meal.